Current Sage Users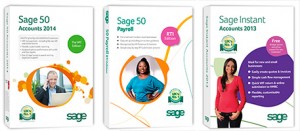 More and more businesses are moving their finances to online software. However, this can often be an expensive and time-consuming process., involving the retraining of staff and the transfer of your data onto a completely new system. You don't need to worry about any of that with Cloud 50.
Here's how it works
We install a copy of your existing Sage 50 Accounts program on a high performance server held in the cloud.
We email you an icon to drop onto your desktop (this needs to be dropped onto each of the PCs/devices requiring access – minimum of 2 users as standard).
We supply you with user logins and passwords to access your Sage 50 Accounts program, now cloud-based.
You launch Sage from a screen icon in the same way that you would if the program were installed locally (the first time you log on you will need to restore your Sage data from a back-up), and away you go…
A bit more detail
All variants of Sage 50 can be hosted – Sage 50 Accounts, Sage 50 Accounts Plus and Sage 50 Accounts Professional.
Sage Instant Accounts and Sage 50 Payroll can also be hosted without the need of an additional server.
Cloud 50 works optimally with Sage 50 Accounts 2012 and above, however, we are able to install older versions if required.
CIS and Foreign currency models can be installed.
North American and worldwide versions are also supported – if it can be downloaded we can install it.
Sage 50 performance is better in the cloud than over a local network, particularly with numerous users accessing data simultaneously.
The inbuilt Sage 50 email client can be set up to mail invoices, remittance advice, statements and other reports to customers, suppliers, even yourself.
You are able to export reports direct to your desktop as PDF, Excel or CSV files.
Cloud-based integration with Microsoft Excel and Outlook can be provided as an extra.