New Sage Users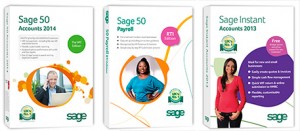 With over 800,000 users in the UK and millions worldwide, Sage 50 is a very popular choice with small and medium sized businesses. Its continuous development and A1 support system combined with a large pool of third party add-ons will all help to improve the way you do business.
Here's how it works
We discuss the version of Sage 50 that you require (and the addition of the CIS module where necessary).
We can arrange your Sage licence direct from Sage or you can supply your own.
We assess the number of users that you require.
We install your Sage 50 Accounts program and data in the cloud on a dedicated high performance server that only contains your data.
We email you an icon to drop onto your desktop (this needs to be dropped onto each of the PCs/devices requiring access – minimum of 2 users as standard).
We supply you with user logins and passwords to access your Sage 50 Accounts program, now cloud-based.
You launch Sage from a screen icon in the same way that you would if the program were installed locally (the first time you log on you will need to restore your Sage data from a back-up), and away you go…
We can also provide assistance in the setup of your new Sage Accounts as well as on-going support and training.
There is no need for multiple installations of Sage; we install the program on the server and then provide you with an icon, this is then dropped onto the desktop of your local PC/other devices to gain access to your Sage program and data.
A bit more detail
All variants of Sage 50 can be hosted – Sage 50 Accounts, Sage 50 Accounts Plus and Sage 50 Accounts Professional.
Sage Instant Accounts and Sage 50 Payroll can also be hosted without the need of an additional server.
Cloud 50 works optimally with Sage 50 Accounts 2012 and above, however, we are able to install older versions if required.
CIS and Foreign currency models can be installed.
North American and worldwide versions are also supported – if it can be downloaded we can install it.
Sage 50 performance is better in the cloud than over a local network, particularly with numerous users accessing data simultaneously.
The inbuilt Sage 50 email client can be set up to mail invoices, remittance advice, statements and other reports to customers, suppliers, even yourself.
You are able to export reports direct to your desktop as PDF, Excel or CSV.
Cloud-based integration with Microsoft Excel and Outlook can be provided as an extra.